Ordering System for Surface Treatment (OSST)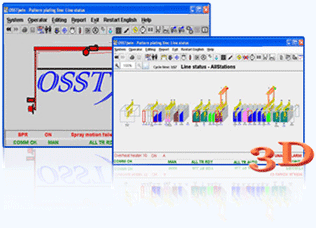 OSST System II - System for effective surface treatment

OSST is a standard computer based system used to control a surface treatment line and its side equipments. It is an ordering system for the transporters and the line equipments. A common computer with SCO Unix is used to run the program. One of the advantages of using UNIX is that it is a very reliable operating system with the capability of running multiple client computers simultaneously. Some of the features are:
Mixed flexible control based on the part number.
Process variables in the part number file (maximum 50,000 part numbers).
Controls of up to 30 transporters. Up to 300 process sequences (each with variable times depending of the part number) can be used in the system with maximum of 300 steps/process.
This gives a combination of several thousands of recipes.
Expandable from a small stand-alone system right up to a large system covering the largest of client facilities.
OSSTjWin - Operator interface for OSST System

OSST System II has been updated with a new graphical program OSSTjwin. The new program is written in Java and can be run in both Unix and Windows environment. New version of OSSTjWin contains the following major features:
3D Line Status - improved visualization with zoom-in side equipment capability - new
Time/Way Generator - auto generate transporter program - new
Flashback

- stores and playback historical data about the transporter and flight bar activities

Graphical Builder

- allows creation of additional machine controls

Time Priority Program

- different processes can be run at the same time

Time/Way

- only one process can be run in the line at the same time
Sample screens of OSST System

Flashback

3D Line Status

Graphical Builder